Group Rates for Dreams Los Cabos All Inclusive Vacations
Stay at the Dreams Los Cabos Suites and enjoy the luxury of the beachfront location and the historic town with many fun activities. Keep in mind, the Dreams Los Cabos is often mistaken for Dream Los Cabos, but they're the same resort. Enjoy the Los Cabos weather where the ocean meets the desert, while staying at one of luxurious Cabo all inclusive resorts. Your Los Cabos vacation is not complete without soaking in the warm sun on a gorgeous beach. Soak in one of the three pools or watch your children play in the kiddy pool. Get a group of friends together and take advantage of the group rates for Dreams Los Cabos.
Travel Agent for Group Rates for Dreams Los Cabos
The best travel agent for group vacations will know how to get the best group incentives for your Los Cabos vacations. Here's what we'll offer you:
Free stay at the Dreams Los Cabos (ask our agents about this)
Included airport transfers in your pricing
Requested room upgrade for your room
Exclusive treatment for your group
Unlimited dinner restaurant reservations
24/7 free room service
Unlimited all inclusive premium liquor
Similar to Dreams Los Cabos Suites Golf Resort & Spa
Fiesta Americana Grand Los Cabos
RIU Palace Cabo San Lucas
Luxury Cabo Rates at Dreams
Los Cabos resorts offer guests some of the most amazing experiences in the world, from the legendary Los Cabos weather to the mystic color of a deep blue ocean, you'll find exactly what you're looking for on your next vacation. With a great beachfront location, near a historic town and tons of activities–including multiple golf courses–Dreams Los Cabos is without a doubt one of the most impressive Los Cabos hotels in the area. People search endlessly for the perfect hotel, but we've made it easy to find the right match for all of our vacationers. Though Dreams Los Cabos is often mistaken for Dream Los Cabos, the five on-site restaurants featuring international fare truly separate it as an unforgettable accommodation option. One of the most impressive aspects of the Dreams Los Cabos Suites is the enchanting atmosphere that it offers both couples and families. With night-time outdoor movies and an evening craft market, children with be dazzled and lovers will be engulfed in the spirit of the resort.
Deals at Cabo San Lucas Resorts
On a large, white-sand beach in the heart of the Hotel Zone in Cabo San Lucas, Mexico,lies a vacation retreat like no other. Dreams Los Cabos brings the heavenly aura of a paradise to reality with its three pools, including kiddy pool and adults-only, and jacuzzi. As far as Los Cabos vacations are concerned, Dreams Los Cabos is a must visit. We encourage you to lay back and relax on the beaches of Mexico, since we've compiled guides for the best and most spectacular resorts in the entire country. Los Cabos all inclusive resorts put you in a state of mind that only can be experienced through true relaxation, a feeling that comes natural at Dreams Los Cabos. Kick off your sandals, grab an ice cold cocktail from the plethora of fully stocked bars, and submerge yourself in the ritzy vibrations of the resort, for you're in for the time of your life. With nightly stargazing, beach entertainment, and a lively nightlife, it comes to no surprise that Dreams Los Cabos is considered one of the most incredible resorts in the world.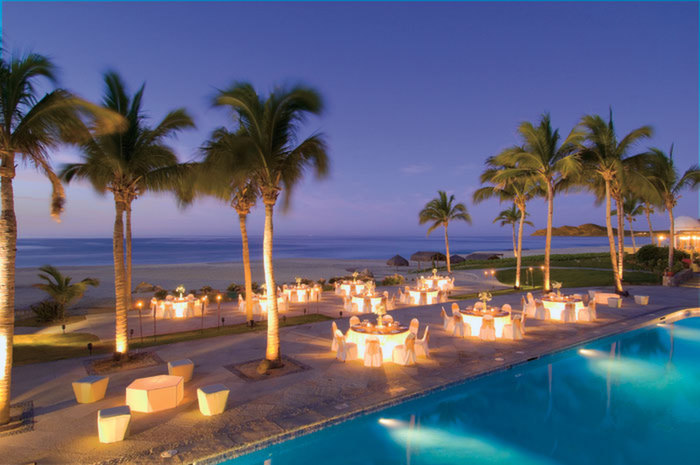 Dreams All Inclusive Rates
In addition, Dreams Los Cabos group rates are some of the most affordable in the entire country, so we recommend you book with friends. Just imagine living in the comfort of a luxury resort with all of your friends and loved ones, while consuming an ice cold Mexican lager. Does it sound too good to be true? Fortunately, with our organized and efficient booking services, you are able to finally have the vacation you deserve. Group rates for Dreams Los Cabos start at some of the lowest in all of Cabo San Lucas, saving you money while you search for the perfect hotel.
Dreams Los Cabos could be your Dream Resort!
When you choose Dreams Los Cabos, your suite turns from a suite into a palace, for all rooms are suites with kitchenettes. This is especially useful for people that want some extra space for their family, love of their life, or simply just impressive a few friends in the beautiful city of Cabo San Lucas, Mexico. Also, remember that Dreams Los Cabos is considered one of the most family friendly hotels in all of Cabo, so get your children hyped by mentioning the extensive Kid's club. The Kid's Club will keep your young ones entertained throughout the day, thus allowing you to have some much needed alone time with your spouse. A vacation should include ample time for relaxation and care free thoughts which is exactly what this beach side resort brings to its guests.
Group Travel in Cabo
Looking to stay fit while you soak up some rays in Mexico? Dreams Los Cabos has an on-site spa and fitness center, equipped with personal trainers, allowing guests to keep their workout routine. But, if you were hoping to simply relax on the beach, drink hand crafted cocktails, and get tan, take advantage of the resorts plentiful care-free vibes.
By far, the greatest part of an all inclusive vacation is the fact that you don't need to bring your wallet anywhere, for everything is already paid for. Once you book your vacation at Dreams Los Cabos, you are entitled to just about everything at the resort. Order anything on the menu, change them to your specifications, and leave the heavy wallet at home, because we've got you covered.
Cabo Beach Getaway Perks
Do you enjoy golfing? This beachfront resort is located near eight championship golf courses, all of which were designed by some of the best in the business. Jack Nicklaus, Roy Dye, Tom Weiskopf, and Robert Trent Jones Jr., to just name a few of the legends. You'll play the best golf of your life down here, because when you're happy, your golf game is happy. Also, there truly is no better way to cap off the golf day than with a hand-crafted cocktail or local brew. So, book your Dreams Los Cabos vacation today and mix the perfect amount of golf and relaxation during your stay in Los Cabos.
Low Rates for Group Cabo Travel
Our mission is to ensure the happiness, safety, and comfort of all of our guests, which allows them to have a carefree, stress free vacation. When you choose Mexico Group Travel for your next vacation, you are guaranteed to find exactly what you've been searching for. Apart from the beach vibe atmosphere, incredible service, and delectable food and drink options, Dreams Los Cabos offers an unforgettable experience to all of its guests. This resort openly welcomes newlyweds, families, long lasting couples, or solo vacationers, making it one of the most accommodating resorts in Mexico. Book Dreams Los Cabos for your next getaway and start being treated the way you deserve. The vacation of a lifetime is just a click away!