Now Jade Riviera Cancun Packages
When it comes to Riviera Maya All Inclusive Resorts, no accommodation can quite match up to the family-friendly, luxurious, beachfront NOW Jade of the Riviera Maya. You'll find endless fun and adventure behind every corner. From submerging yourself in the refreshing infinity pool to testing your marine skills on a deep sea fishing hunt, you'll realize immediately why you chose the NOW Jade for your family's next all inclusive vacation. Some resorts in Riviera Maya are more geared towards older couples and lack that true sense of adventure that families are looking for during their vacation to Mexico. Fortunately, NOW Jade has been developed to meet the needs of vacationers that want to combine their days of relaxation with magnificent resort amenities.
Jade Resort in Rivier Cancun
This upscale resort provides endless options for singles, couples, friends, and families, featuring 550 elegant suites, each of which offer breathtaking views of the enchanting blue waters of the Caribbean Sea. Take an early morning stroll on the half mile stretch of white sand beach, immerse yourself in the cool Caribbean Sea, or lay out on the resort's pool area and soak up some sun! Here's what we can offer:
24 Hour Room and Concierge Service
3 Amazing Infinity Pools
Optional Adult Only Amenities
A Relaxing Locations
Incredible Restaurants
Transfers to and from the Airport
An Unforgettable Vacation!!
NOW Resorts Deals at Jade Riviera
With basically everything you'd ever need available within the borders of the hotel, many guests find themselves staying within walls of the NOW Jade Riviera Maya during their entire vacation. That was one of the goals when NOW created this majestic beach playground: make its guests feel at home. At NOW Jade, guests are transformed from the standard hotel guest to kings, queens, princes, and princesses of a royal palace. There's no need to cook a meal, mix a drink, pay a bill, or even lift a finger for that matter. Your Riviera Maya all inclusive resort should be the one's caring to your every need and NOW Jade is just to place for that to happen. Because NOW Jade is an all inclusive resort, all of your food and beverages during your stay will be covered through your pre-determined vacation package plan. This allows you to avoid having to budget your spending on your beach vacation, your chosen vacation package will include just about everything for your whole vacation. From extra beach towels, to specialty drinks, to a four course meal at a five star restaurant, it's all included.
Now Jade Resort for Groups
The NOW Jade Resort includes three pools, an infinity pool, quiet pool, a chic spa with marble floors and sleek furnishing, modern fitness center, seven restaurants, cafes, 6 bars, 24 hour room service, and 24 hour concierge service. One of our favorite parts about this beachfront resort is the tranquil location that it offers its guests. There are a variety of Riviera Maya Resorts that simply cannot deliver the same tranquility and peacefulness that the NOW Jade does. It's located on the laid back Puerto Morelos area of Mexico, giving it a friendly, homey atmosphere.
Beach Vacation to NOW Jade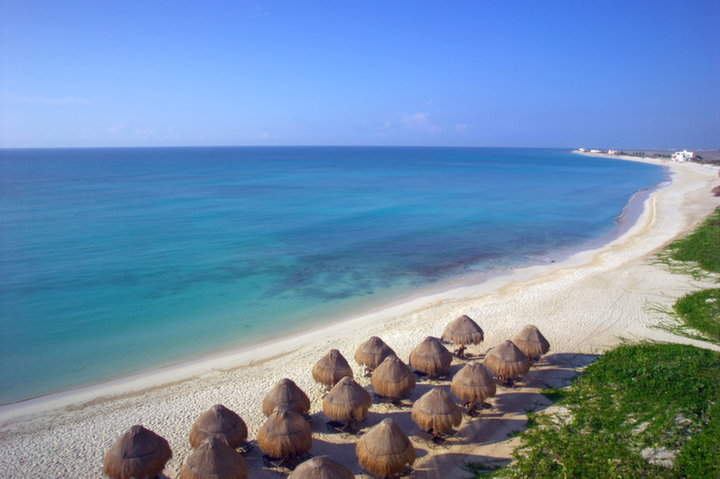 Hotels All Inclusive Packages for Groups at NOW Jade
Don't forget about group rates to NOW Jade Riviera Maya! This is one of the best features of any Mexico or all inclusive vacation. You are able to book unforgettable Riviera Maya vacations with any size of group. From vacationing with your entire extended family, to booking reservations for your children's closest friends, the NOW Jade makes it extremely easy for you to make a large reservation. When you're down in the Riviera Maya, enjoying the sights and sounds of the Caribbean, having your closest friends and family there by your side can really accentuate the comfort of your vacation. "The More the Merrier" could never be so true. Enjoying the stunning beaches of the Caribbean with people that you truly care about is one of the greatest feelings in the world and we want to make it as easy as possible for you to experience this! So, check out some of the group rates to NOW Jade Riviera Maya and see what we're talking about!
NOW Jade Resort and Spa Rates
The NOW Jade Riviera Maya invites its guest to relax amongst the atmosphere of the Caribbean coast, an experience that is truly remarkable. The modern suites are adorned with traditional artwork, handcrafted dark wood furniture, and a vibrant color scheme. Choose from a variety of standard room types: Family Suite, Ocean Front Junior Suite, Ocean View Junior Suite, and the Tropical View Junior Suite. These rooms include all of the basic amenities of a hotel. While all suites are beautiful, clean, and spacious, those vacationers wanting a little taste of true luxury are recommended to take advantage of the Preferred Club options. Guests that choose the Preferred Club will receive personalized check-in and checkout with concierge service, an outdoor jacuzzi on the private balcony, upgraded in-room amenities, access to Mercure Restaurant for an a la carte breakfast, two 32 inch LCD TVs, complimentary in-suite Internet access, and entry into the Preferred Club Lounge, which serves refreshments and complimentary computer access. A vacation should be a time in which you treat yourself to all the VIP amenities of a five star hotel and a Preferred Suite will allow you to truly enjoy your vacation in the Riviera Maya of Mexico!
Book your Group Vacation to NOW Jade!
NOW Jade is able to cater to just about any type of guest. Whether you want to spend your honeymoon on the pristine beaches of the Caribbean, spend your Monday morning on the links (shooting par), or you just want to spend some quality time with your kids, there is no place better to do it that NOW Jade of the Riviera Maya. Stop hesitating and start searching for the vacation package that fits your budget! With several different room types, it's easy to turn your vacation from a cliche trip to Florida to an unforgettable getaway to Mexico's Riviera Maya.