Lowest Group Rates for Dreams Riviera Cancun
Enjoy the low Dreams Riviera Cancun group rates and have a fantastic all inclusive vacation in Cancun. Commonly referred to as the Dream Riviera Cancun, because it's located in the Riviera Cancun. It's next to the RIU Cancun and NOW Jade Riviera Cancun, which are walking distance to the Cancun hotel zone. Relax on the white sandy beach or enjoy the view from your private balcony. Relish in the tasteful room decor, featuring the new renovated marble floors. Each room has its own private shower and Jacuzzi, so you can enjoy this Cancun resort to its fullest. Furthermore, our Cancun vacation packages unlimited daily activities and nightly entertainment.
Dreams Riviera Cancun All Inclusive Packages
You and your guest stay free with a minimum amount of guests
9 Unlimited gourmet restaurants
No reservations required for restaurants
Unlimited 24/7 room service at Dreams Riviera Cancun
6 All inclusive bars with unlimited premium alcohol
Modern gym with Pilates, Yoga & other classes included
1 room upgrade every 10 rooms
All Inclusive Hotels near Dreams Riviera Cancun
RIU Caribe
RIU Palace Mexico
Dreams Los Cabos
Hotel RIU Cancun
Every perfect beach getaway requires a few important factors to truly be an unforgettable experience. You need a pristine, white sand beach, reliable service, and quality cocktails and meals. When you choose Dreams Riviera Cancun for your next Cancun, Mexico vacation, you'll discover a side of luxury and relaxation that you have only dreamt of. We understand our customers' ideal Cancun vacation packages, enabling us to become the choice tourism company for satisfying future Mexico vacationers. Whether you're looking to find five star seafood cuisine on the beach, or the perfect mango mojito, we can deliver an unmatched, unforgettable vacation experience to people of all ages and interests.
Dreams Riviera Cancun Luxury Experience
Commonly referred to as Dream Riviera Cancun, Dreams Riviera Cancun truly separates itself from the cliché resorts of the area by offering an upscale resort with a touch of tasteful and elegant room decor. The atmosphere at Dreams Riviera Cancun is upscale, with teak wood and marble floors, thus accentuating the island vibe of a star studded beach. Located in the safe area of the Cancun resorts, Dreams resides in Riviera Cancun. It's close enough to the bustling nightlife for guests to spend the night dancing to salsa and electronic music, but far enough away from the noisy clubs that you'll rest easy at night. Positioned really close to what is now Jade Riviera Cancun and right next door to the Rio Cancun, guests are really able to see the natural beauty of this paradise! You'll be about a 30 minute drive from the lively Cancun night clubs, yet directly on the relaxed Caribbean Ocean, giving you ideal location. You'll find a slice of heaven at this Cancun All Inclusive Resort, especially when you choose our pre-planned, all expenses paid, all inclusive, vacation packages.
Don't be afraid to leave the wallet and sandals at home while you vacation to Dreams Riviera Cancun, because we've got everything covered. All you need to do is sit back, relax, and enjoy the meticulously planned vacation offered on our website. In addition to our couple and single vacation packages, Dreams Riviera Cancun group rates are some of the more impressive in the country. Pick from a variety of different styles of rooms, wings, and suites, to find exactly what you need during your next vacation to Cancun, Mexico. The well ventilated, airy rooms all offer their own private balconies, which have become a standard for luxury in Mexico these days. All bathrooms are adorned with marble bathrooms, showers and Jacuzzi tubs are separated for ultimate enjoyment. Our mission is to choose the perfect style of room or suite to fit any budget, giving you a desirable getaway that can be enjoyed by everyone in your party. If you'd like a bit more of a legendary vacation, we suggest taking advantage of the VIP, Preferred Club package, ultimately providing you with a lavish vacation that you'll go home bragging about.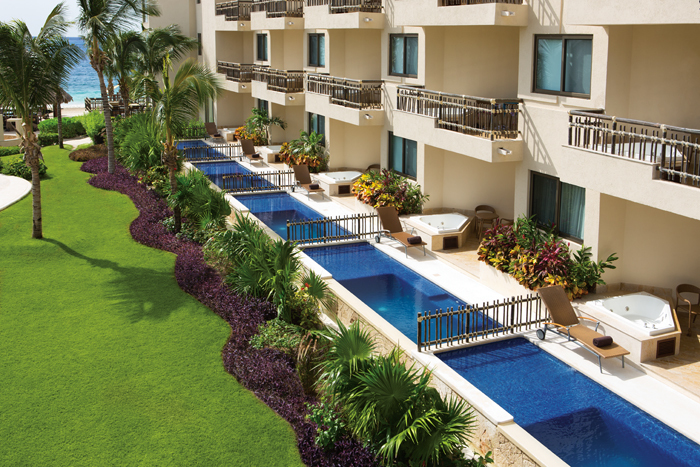 Dreams Riviera Cancun Vacation Packages.
Dreams Riviera Group Packages
The resort itself has a ton to offer as far as aesthetics and comfort, for the Dreams Riviera Cancun provides several pools, including an infinity pool, equipped with a swim up bar and exceptional view of the Caribbean coast. Also, the beautiful indoor/outdoor spa has jacuzzis and refreshing plunge pools for guests to enjoy during their stay at Dreams. Dreams Riviera Cancun mixes feelings of total relaxation with the utmost luxury, which when combined, creates something that is truly unforgettable. We guarantee our guests have the vacation of lifetime by delivering complete all inclusive packages that treat them like royalty. Those vacationers who are interested in using a state of the art fitness center are in luck, because Dreams has both a fully equipped exercise center, which includes a Pilates and cycling studio. Many people search endlessly for the perfect deal, but are never offered an experience that they'll remember forever. That's where we come in. We find the best of the best as far as hotels in Mexico are concerned and create all inclusive experiences that will surely have you leaving in a stress free state of mind.
Riviera Cancun Beach Getaway Deals
In addition to its vast amount of pools, spas, and views, Dreams Riviera Cancun provides guests with 9 tasty restaurants to choose from, 6 bars, and 24-hour room service. That's right! If you need anything delivered at any hour of the day or night, the quick and efficient room service attendants will be at your door in minutes. There's no need to even leave the bed in the morning, because the staff at Dreams will bring your order directly to your room. With quality meals prepared daily, it's hard to imagine a day without the pleasures of a resort as quality as Dreams Riviera Cancun. Dreams offers plenty of activities for all ages, from an adventurous Kid's Club to multiple daily activities happening around the resort, every day is bliss when you choose Dreams in Riviera Cancun, Mexico. We understand that you'll need to have knowledgeable and reliable services while you're here, so we only find resorts and hotels that can solely offer the most intelligent concierges in the country. Whether you want advice on the best beach, nightclub, or restaurant in the area, the 24-hour concierge desk will be able to help you with just about anything you'd need while you're down in Cancun, Mexico.
Packages for Groups at Dreams Riviera Cancun
With nightly entertainment in the resort, near the beach, and at local nightlife hotspots, you'll begin to understand why you chose Mexico Group Travel for your next trip to Mexico. There should be no reason any guest has to lift a finger, that's why we've created these all inclusive packages, to ensure the ultimate experience. Stop wasting your time trying to calculate the cheapest way to visit Cancun, Mexico and take a look at our competitive prices. Dreams Riviera Cancun will be a vacation you'll go home telling your friends about, and at the end of the day, that's exactly what we're hoping for. Start living the dream on the white sand beaches in Cancun, Mexico. For your bliss is just around the corner. View more about our group trips to Cancun