RIU Palace Cabo Group Packages
---
Only about 15-30 minutes from the Cabo San Lucas airport, the Hotel RIU Palace Cabo San Lucas is a great place for your next group vacation. Our Cabo group packages, make Cabo San Lucas vacations easy and affordable. Invite all your friends and family to take advantage of the lowest group rates. Peacefully located away from Cabo's party atmosphere, Hotel RIU Cabo San Lucas is one of the best Cabo San Lucas's family-friendly resorts. Their all inclusive packages include meals, drinks, activities and entertainment. Enjoy two large pools, one designed for relaxation and one for activities. Whether you enjoy their micro-cuisine or their Asian fusion restaurant, there's a little bit for everyone.
All Inclusive Group Rates for RIU Palace Cabo San Lucas
Complimentary eligible stays based on number of people
All inclusive food and drink packages
Relaxing and activity pools
2 swim up bars with pool bartender service
Complimentary Wifi
Complimentary restaurant reservation up to 40 guests
2nd most popular of the RIU resorts
Other Resorts in Cabo San Lucas
All inclusive resorts in Cabo San Lucas which offer Cabo group packages.
Group Rates for RIU Santa Fe
Group Rates for Dreams Los Cabos
Group Rates for Sandos Finisterra
RIU Palace Cabo Vacation
Ideally located between the bustling city of Cabo San Lucas and the remote area of Land's End, RIU Palace Cabo San Lucas combines relaxation with celebration to form the ultimate vacation. When you vacation to Mexico, you want to be creating memories that will last a lifetime and Hotel RIU Palace Cabo San Lucas is an excellent place to start. Though Cabo San Lucas is notorious for its rowdy nightlife, the RIU Palace Cabo San Lucas provides guests with a preferred location that's far enough away from the noise to get a good night of sleep. Located only about 15-30 minutes from the Cabo San Lucas Airport, you won't have to worry about a long van ride, or renting a car, because everything is at your fingertips when you stay at Hotel RIU Cabo San Lucas! This family-friendly resort caters to singles, couples, families with small children, and college aged students that want mix a little relaxation in with their morning mojitos.
Best Cabo Deals for RIU Groups
Finding the right Cabo San Lucas resorts can be a daunting task, for there are tons of different Cabo group packages. How are you supposed to know which one to choose? Planning Cabo San Lucas vacations has never been easier than now, for Mexico Travel Agency has found the best and most affordable Cabo group packages available. People also ask, what exactly is an all-inclusive vacation? This is an amazing question, because so many resorts claim to be "all-inclusive", only to have hidden charges when you check-out. With RIU, things operate a little differently. When the Hotel RIU Palace Cabo San Lucas claims to be "all-inclusive", they truly mean that all your food, drink, and water activities are entirely included in your vacation package. You'll choose from a variety of different package choices and choose one that can accommodate your needs. We understand that everyone's budget is different, so we've done the liberty of meticulously designing packages for just about every budget.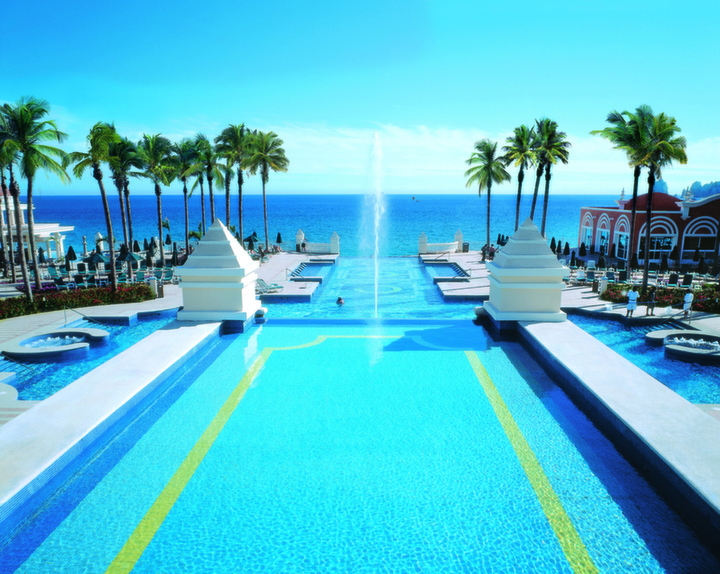 Cabo Vacation All Inclusive Rates
Let's talk a little about Cabo San Lucas. This beach town is stretched across Mexico's Baja Peninsula and has become home to some of the country's rowdiest parties, high class nightclubs, elegant cuisines, and most breathtaking views. Beach lovers will be glad to hear that there's a ton of phenomenal shopping, intriguing restaurants, and vivid nightlife to enjoy, so you'll be occupied during your whole vacation. The whole shopping and nightlife thing isn't your style? No worries! RIU Palace in Cabo San Lucas was designed to make guests feel as if they never need to leave the resort and many people never do leave. You have everything you could ever imagine when you choose an RIU resort for your family or group's next vacation. Oh, and did we mention that you'll receive total all-inclusive amenities at all nearby RIU resorts? So, if your friend is staying at a RIU resort nearby, you can grab a drink, or even dinner with them without having to deal with an additional charge.
Group Cabo Travel to Luxury RIU Palace
Hotel RIU Palace Cabo San Lucas provides guests with a few of the areas most remarkable cuisines. Though located near the best restaurants in town, the food choices at the RIU in Cabo are worthy of a king or queen. Guests are invited to test out the buffet or a la carte style restaurants throughout the hotel. Depending on your mood, you can get a jazzy fusion meal, traditional Mexican dinner, trendy Japanese entree, or keep things simple with a reservation at the Grill Steakhouse. Chefs at the RIU Cabo San Lucas excel at creating cuisines that will shock the palates of food critics from around the world, so they like to keep menus frequently changing. RIU resorts realize that many guests have food allergies, are vegetarian, or have specific needs, so they've created dishes to cater to every type of diet. Whether you want to stuff your face with a hamburger and fries, sit down to a romantic dinner, or pile your plate with flavors from around the world, the RIU Cabo San Lucas has an option for everyone!
RIU Palace Cabo Getaway
Cabo San Lucas vacations are a time where families can spend time together, couples can find romance, and college students can party. Although the three sound incredibly different, it goes to show you how magical a place like Cabo San Lucas truly is. It can cater to so many different types of vacationers; from the chiller to the partier, everyone has the time of their life in Cabo San Lucas. You deserve a little time away from the workplace and what better place to kick back and relax that the RIU Palace Cabo San Lucas? Your dream vacation is just a click away!
Relaxing RIU Beach Vacation
Let's face it, one of the most important factors of any all-inclusive Cabo San Lucas vacation is to drink, dance, and be dazzled by live entertainment. The RIU Palace in Cabo San Lucas offers five different bars to get your drink on. All of the bartenders and waitresses are skilled at making intricate drinks, rapid service, and providing over-the-top customer service to guests. Despite from having five different bars to choose from, guests are also welcome to enjoy the resort's nightclub. Famed for hosting the most lively parties in the country, Cabo San Lucas knows how to impress everyone, of all ages. For example, children can enjoy activities at the RIULand Mini-Club, Dad can head out to links for a round of golf, the teens can boogie all day and night, and Mom can treat herself to a spa. The possibilities are endless!