Ocean Coral and Turquesa Resort
Are you looking to escape to the Caribbean during your next vacation? Do you want to save some money by staying at one of the most budget friendly hotels in Mexico without forfeiting quality? Then the Ocean Coral & Turquesa may be the ideal place for you to vacation during your next visit to the Riviera Maya in Mexico. This astonishing all inclusive resort is located on the prime stretch of beach in the heart of the Mexican side of the Caribbean. The Caribbean is a vast part of the world, stretching through many different cultures, which makes it one of the most unique parts of the world.
Ocean Coral All Inclusive Perks
Each part of the Caribbean offers a different experience to its visitors and we must admit that the Mexican Caribbean is now of the most spectacular. The Ocean Coral & Turquesa offers stunning views of the Caribbean Sea, pristine white sand beaches, crystal clear water, and is surrounded by natural tropical vegetation. Aside from the resorts assortment of spectacular natural features, the Ocean Coral & Turquesa offers some of the most luxurious and elegant amenities of any Riviera Maya or Cancun all inclusive resort.
Ocean-front balconies along Riviera Maya
Spa and Beauty Salon on site
Dancing and night entertainment at the pools bars
Top shelf liquor
Transfers to and from the airport
Amazing entertainment staff
An unforgettable vacation experience
One of a kind All Inclusive
The Ocean Coral & Turquesa is commonly mistaken for Ocean and Coral Turquesa, which is a completely different resort. Make sure when you make your reservation and planning your next vacation getaway that you pay careful attention to which resort you're researching.
Book Ocean Coral for a Group
Ocean Coral & Turquesa by H10 Hotels is located on the lovely beach area of the Riviera Maya and has four pools which are surrounded by emerald green palm trees. In addition to the several refreshing pools of the resort, the Ocean Coral & Turquesa also offers a Kids Club, which includes fun activities (tennis, games, etc). The presence of the Kids Club makes it possible for Mom and Dad to get some alone time during their vacation. The staff of Ocean Coral and Turquesa excel at keeping children occupied during your trip to the Riviera Maya, so you can relax knowing that your children are in the hands of experts. Though as a standard guest, you'll receive unlimited food and liquors, those who chose the "Privileged Status", will be granted access to specialty lounges, receive top shelf liquor, and be treated to extra amenities. The Privilege Status is the total package. If you want to be treated like a VIP member, then this is the best option, but regardless what you choose, you'll be treated to only the finest of the Riviera Maya.
Group Rates for Ocean Coral and Turquesa Resort
Ocean Coral & Turquesa by H10 Hotels has become a leader in luxury Mexico resorts, making it one of the most budget friendly hotels in Mexico. You can rest easy knowing you've booked a Riviera Maya vacation at a family friendly resort near all the action! The resort offers top notch, state of the art amenities to guests, ensuring they have a pleasurable stay while they vacation to the Riviera Maya. Located on the beautiful oceanfront all inclusive area of the Riviera Maya, guests are treated to some of the best views of the entire country without even having to leave the comfort of their hotel! The rooms are designed in a contemporary style with red accents and royal private balconies. All rooms have full baths, include exclusive services, plush towels, comfortable beds, traditional furnishing, and much, much more. You get the ability to choose from a variety of different styles of rooms, from a Junior to Royal suite. A few of the offered rooms include: Junior Suite Garden View, Junior Suite Ocean View, Master Suite, Privilege Junior Suite Garden View, Privilege Junior Ocean View, and last, but certainly not least, the Royal Master Suite, Oceanfront. Each of the rooms cater to a different type of guest, whether you're celebrating your honeymoon, spouse's birthday, or children's graduation, there will be something that fits your needs.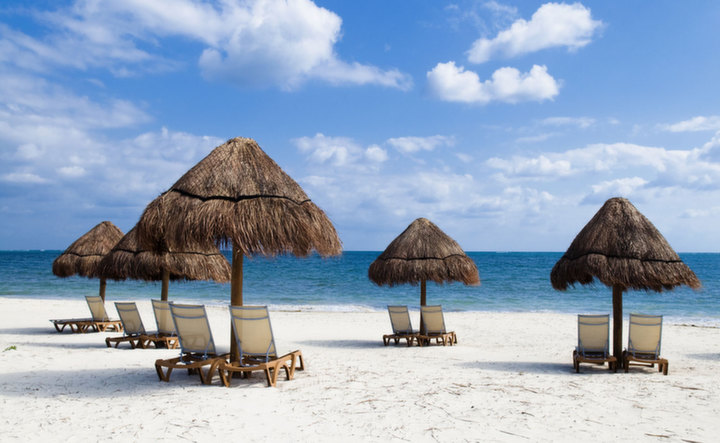 A beach vacation to remember!
All Inclusive Packages at Ocean Coral and Turquesa
A great concept that was created by Cancun all inclusive resorts and places like the Ocean Coral & Turquesa was the idea of vacationing with your closest friends. At first, this seemed like a daunting task, but with the help of several agents, you now have the ability of booking an all inclusive trip without the headaches. The Ocean Coral all inclusive packages are very affordable and can be detailed to fit just about any type of budget. If you want to go all out and be treated to top shelf liquor and one of a kind restaurant entrees, then the Privilege Status is your best option. But, if you are on a more limited budget, and still want to receive all the perks of a five star resort, then there's a variety of different options. Remember, this an all inclusive resort, so all your drinks and food are going to be included in your vacation package. You won't have to deal with figuring out an enormous bill to pay at the end of the night, because nearly all costs are already pre-determined. That's right, you can drink as many Piña Coladas, Margaritas, rum and cokes, vodka tonics, local beers, and you won't have to worry about how much your "tab" will be at the end of the night. Ocean Coral & Turquesa all inclusive vacation packages welcome you to open the largest tab you've ever had. This is paradise and you deserve to be treated. So, what's the hold up? Stop waiting to book the vacation of lifetime and start today!