Group Travel to Cancun
If you're looking for group travel packages to Cancun, Mexico's all inclusive resorts, this is a good place to start. When planning a group vacation, you want to make sure you're organized, so everything goes smoothly. Two of the most important things to consider in getting the best Cancun all inclusive packages is when to travel and finding the best company for group travel to Cancun. The company you decide to book with, will determine how easy the booking and traveling process will go for your entire group. Online & local travel agencies specialize in individual reservations and will not be ready for the obstacles that groups encounter.
When to best time for group travel to Cancun?
Here are some ideas to consider when choosing your travel dates. Depending on what's important to you, you'll be able to choose what dates are right for you. If you're still confused, a travel agent specializing exclusively in group travel will be able to further help you narrow down the best combination.
Cheapest Cancun group travel is August 18-September 30
Most Expensive time is February 1-March 31
Hurricane Season June 1-November 30
Rainy Season September & October
Best months for Destination Weddings is February and May
Winter weather in November-April averages 80F
Arrive mid-week to Cancun hotels for lower rates
Planning a group vacation to Cancun
If you're planning your Cancun group vacation packages with us, we'll help you narrow down the right resort, the most convenient flights, the safest airport transfers to your hotel and the cheapest Cancun group rates. Here's a list of tips to help you avoid stress when booking Cancun all inclusive packages for a group.
Book early to avoid rate increase
Express booking early to your guests as well
Make sure everyone has non-expiring passports
Avoid mis-communication by asking more questions
Don't try to handle everything on your own
Book with resorts that specialize in group travel
Decrease costs by being flexible on travel dates
Consider having your group, travel to Cancun!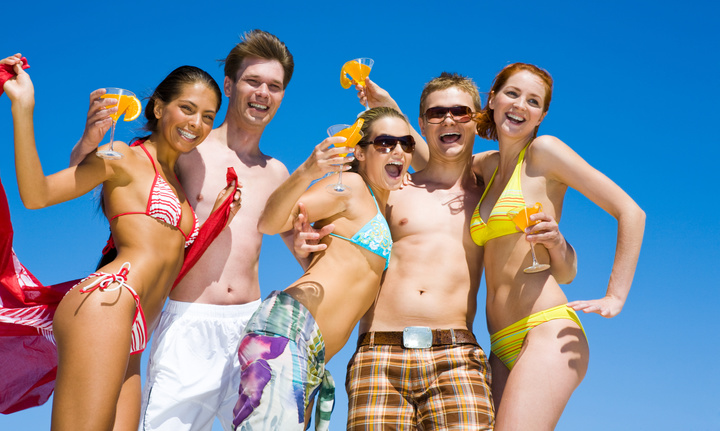 ---
Cheapest group travel to Cancun
The cheapest time when to travel to Cancun is August 18-September 30, however if you cannot go during that time frame, you can still get the lowest group rates during any other time period with us. If you're worried about the cost and getting the best deal at the time of booking, you have nothing to worry about. If you're booking your group trip to Cancun with us, we guarantee to beat the lowest rates you find online. So if you're worried about booking and finding out there's a lower rate somewhere else the same day, let us know and we'll price match it with no problem. Just make sure it's a rate from the same and from a credible US online travel agency.
Travel packages to Cancun, Mexico all inclusive resorts
Flight+Hotel package options
Hotel & airport transfers options
Government taxes & resorts are included
No extra taxes to pay at the resort!!!
No hidden fees at check in
Packages include a flexible payment plan
Low $150+ down payments to secure your rates
We work with all the major airlines & hotels that offer group rates to Cancun. Airlines usually require over 20 passengers and hotels in Cancun require a minimum of 10 rooms to be considered a group. However, we consider 10 or more people traveling together a group trip! So, we'll be happy to work with you! Read more about all our Cancun group vacation packages available.
Request Cancun Vacation Packages
As a group leader, you should be rewarded for your hard work when planning a group vacation to Cancun all by yourself. Give us a shot, there's no fees to book with us!
Ask about your free complimentary stay at certain hotels as long as your group has a certain amount of people. Group rates depend on what's included, so in some cases you may get cheaper group rates if you don't need the complimentary stay and resort credits.