Luxury Vacation Packages in Los Cabos
Fiesta Americana Grand Los Cabos All Inclusive Golf & Spa is one of Cabo San Lucas' most luxurious resorts. This beach front resort is located away from the notorious party atmosphere of Cabo, allowing guests to find some peace and quiet during their next vacation to Mexico. You won't have to worry about noisy college students crowding the beaches, for The Fiesta Americana is nestled in the more quiet beach area of Cabo. Instead of having to share an overcrowded beach with tons of other people, you'll have the ability to catch a wave, or soak up some rays without the constant clatter of other vacationers.
Cabo Luxury Resort
The fact that you'll almost have your own private beach is one of the reasons Fiesta Americana is such an amazing vacation destination. Cabo San Lucas has been home to the most luxurious Mexico vacations for years and with places like Fiesta Americana Grand Los Cabos, we're certain that it will continue to be a hotspot for family and romantic vacations for years to come! Here's what we can offer:
A luxury experience in Cabo San Lucas
Ability to travel with a large group
Free room upgrades upon availability
Optional payment plans available
Transfers to and from the aiport
Amazing view of the Sea of Cortez from the infinity pool
A vacation of a lifetime
Cabo San Lucas resorts have been known to house a hefty amount of day drinking and late night partying, but this resort is located just away from the center of the commotion. Fiesta Americana invites guests to find their happy place, for it provides peace and tranquility for all guests. Nestled along "The Corridor", which outstretches throughout the beach, you'll have the peacefulness of a secluded beach, but the amenities of a five star hotel. Los Cabos All Inclusive resorts have brought happiness to travelers for years and Fiesta Americana delivers an experience of seclusion and ultimate rejuvenation.
Fiesta Americana Cabo Trip
Let's talk a little about the features of this massive beach front resort. The Fiesta Americana offers an enormous infinity pool, which gives guests a memorable view of the Sea of Cortez. In addition to the pools, the resort is adorned with Mexican art and sculpture accents, providing guests with a traditional atmosphere as they vacation in one of the most legendary spots in Mexico. The pool deck is equipped with plush lounge chairs, private cabanas, and a beach vibe that you'll fly home thinking about. The spacious rooms include large bathrooms with soaking tubs, and walk-in showers, to ensure everyone is 100% comfortable during their stay. You won't feel as if you're just at a hotel in the middle of Cabo San Lucas, but rather that you're being treated in one of the country's most lavish palaces. While you overlook the Sea of Cortez, you'll remember why you chose the Fiesta Americana Grand Los Cabos for your all inclusive stay in Cabo San Lucas, for this view is one of the more legendary in the country. Fiesta Americana Grand has the whole package and with an ice cold cocktail in hand, gazing out at the beautiful view, you'll wish you could stay forever.
Packages Cabo San Lucas Offers
Los Cabos All Inclusive vacation packages have allowed Fiesta Americana to become one of the best resorts in Los Cabos. This resort can accommodate groups of all shapes and sizes, thus catering to more clients. Regardless of your age or interests, there will be a package that suits your needs. A vacation at the Fiesta Americana in Cabo San Lucas can be a great fit for larger groups of families, because this 249 room resort has suites that fit all sizes. You will be able to relax on the beach of Cabo with all your friends and family, simply soaking up sunshine and starting the party with top shelf liquors. When you vacation with your closest friends, a distinct positive energy is present in the air, and we want you to have that feeling during your entire stay! Just imagine ordering rounds of drinks, sitting at the head of the table, surrounded by people you truly care about. This dream can become a reality when you choose Mexico Group Travel and the Fiesta Americana Grand Los Cabos for your next all inclusive vacation! Ask about group rates to Fiesta Americana Grand Los Cabos, so we can help you build your dream vacation.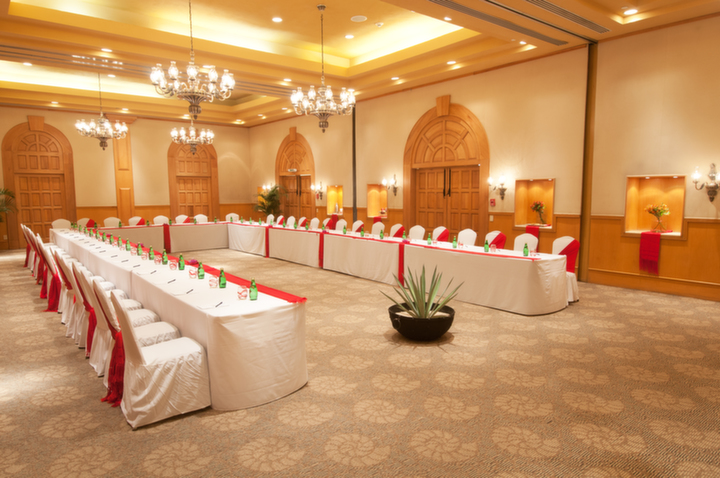 Plan a no hassle group trip to Fiesta Americana!
Simply stated, the Fiesta Americana Grand Los Cabos All Inclusive Golf & Spa is going to offer an experience of leisure, peace, and absolute comfort for all guests. It's able to accommodate the golf junkies, the beach dwellers, the bar regulars, and just about everyone in between, making it one of the best resorts in Cabo San Lucas. So, whether you're visiting Cabo for a family vacation, or want to have a special experience with your newlywed, we can guarantee one of the packages at Fiesta Americana will fit the needs for your next vacation to Mexico. Start searching for a package that fits your vacation desires and enjoy the beautiful city of Cabo San Lucas, Mexico.
Fiesta Americana Vacation for any Occassion
Don't forget that this resort is all inclusive and all of your meal and cocktail expenditures are pre-paid, allowing you to leave the wallet at home while you vacation in this paradise. For the high rollers and guests that want a more personal experience, consider upgrading to the suite, which includes larger kitchens, private jacuzzis, and an outdoor shower. With a suite upgrade you'll have a bit more living space, and be treated to a few more VIP services that simply cannot be found in the standard package. One of the best features of The Fiesta Americana is the options that are provided by resort staff and the resort itself. The resort includes a Kid's Club Room, which will keep the young ones occupied throughout the day. The Kid's Club is packed with toys, art supplies, games, high speed computers, and tons of other activities. While resort staff monitors your children, you will acquire some much needed alone time with your spouse or partner. Though we know your family will spend the majority of the vacation lying on the beach, drinking cocktails, and swimming in the refreshing salt water, the option of an indoor gaming room is great for larger families that have young children. Fiesta couldn't be more accommodating. With activities for families, kids, adults and more, this Fiesta Resort is everything you need for the perfect vacation.