Hard Rock Hotel Vacation
Rock & Roll history would not be complete with the legendary Hard Rock hotels across the globe and the famed Hard Rock Cancun Hotel in Mexico delivers a powerful punch of guitar shredding fun. As opposed to the resorts where the theme is solely, "beach,"at Hard Rock Cancun Hotel, guests are able to relive musical history while they vacation on one of the most pristine beaches in all of Mexico. This piece of rock and roll history is located on a white-sand beach in the famed Hotel Zone of Cancun, Mexico.
All Inclusive Hard Rock Deals
There are several different types of group packages to choose from, so you'll definitely be able to find a package that is perfect for your group. Also, no group size is too large and no guest is too picky at the Hard Rock Cancun, so do not hesitate to specify your most detailed concerns and we will do our best to link you with the perfect vacation package. Along with our amazing Group Rates a truly incredible resort, here's what we can offer to guarantee a vacation you'll never forget!
Transfers to and from the Airport
Optional Payment Plans available
Rock Spa treatments for ultimate pampering
Ocean and Lagoon views from your room
Incredible Restaurants
Free room upgrades upon availability pool
The trip of a lifetime
This Hard Rock resort in Cancun is positioned right next to RIU Cancun, so it's very easy to find once you reach Cancun. The Hard Rock is a spectacle to say the least, for this 12 story marvel catches the shimmering glare of the white sand beach below and literally lights up the city. With live entertainment happening nightly, you and your family will be in awe of all the fun and adventure you'll find during your next visit to the Hard Rock in Cancun, Mexico.
Rock Meixco Group Rates!
Going on an all inclusive vacation can be an extraordinary experience, but that experience can be that much better when it includes a group of your closest friends and family. The group rates to Cancun Hard Rock Hotel are some of the most impressive in Cancun, which allows you to save money without missing out on the luxury of a beach side resort. You'll be able to reserve an enormous dinner table at one of the numerous restaurants at the Hard Rock in Cancun. Or, soak up some rays at the refreshing pool, sip a hand-crafted cocktail, and just relax on the beach. One of our favorite parts about the Hard Rock Hotel Cancun is the atmosphere that it provides for its guests. Though the Hard Rock hotels are commonly known for their party heavy vibe, this resort in Cancun is incredibly family friendly and allows adults and kids to feel comfortable and entertained during their entire stay. In addition, the Hard Rock in Cancun offers a honeymooner package, which includes romantic dinners, a mini-cake, sparkling wine, and one breakfast in bed. The Hard Rock all inclusive amenities are simply unmatched and will surely have you completely satisfied and returning home with a smile from ear to ear.
Hard Rock Resort For Perfect Group Trip
With some 601 guest rooms and suites, The Hard Rock Hotel Cancun is without a doubt one of the most impressive sights on the beach. Guests can fulfill their rock and roll fantasies at Hard Rock Cancun, because the entire resort is themed after guitar solos, famous rock bands, legendary concerts, and some of the rarest memorabilia in the world! While you walk the hallways of the hotel, you'll see photos of rock legends like Mick Jagger, Bob Marley, Jimi Hendrix, The Beatles, and many more. It's very unique to have something like this in Cancun, because it's so difficult to transport, organize, and deliver the pieces of rock and roll history that are found at the Hard Rock Cancun. People who are searching for the above average, all inclusive experience should look no further than Cancun, Mexico's Hard Rock Resort. A completely family friendly, all inclusive resort that offers so much more than just the typical "beach getaway." There are not a lot of places in the world that can offer guests historical significance while still providing the splendor of a beach-front hotel.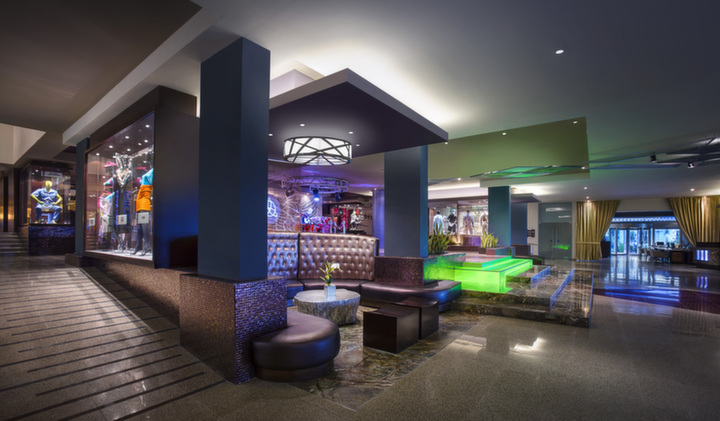 Hard Rock Cancun Beach Getaway
Apart from the spacious rooms and modern amenities, rooms at the Hard Rock include double jetted tubs and liquor dispensers for the ultimate experience. Enjoy a wonderful ocean or lagoon view, rock out in the rejuvenating pool, or take a day at the spa for a total relaxation. With live entertainment, nightly shows, free valet, Brazilian cuisines, buffets, tennis courts, volley ball, and just about everything in between, you'll never want to leave this beach paradise. The rooms at the Hard Rock in Cancun are not your standard hotel rooms, but rather VIP rock star lounge areas. They include private balconies, state of the art amenities, hydro spa tubs, high thread count linens, plush bath robes, video games, and everything you'd want to feel 100% at home. People choose the Hard Rock because they want to avoid having a cliché beach vacation and the standard at the Hard Rock ensures that guests have the time of their lives. Whether you are a family with young kids, a newly married couple, or just a single vacationer looking for some relaxation, the Hard Rock in Cancun, Mexico can be the ideal spot to vacation during your next beach getaway. And the best part of choosing a place like the Hard Rock is that you're going to be engulfed in the vibe of an all inclusive beach-front resort. There is no reason to have to bring the wallet or checkbook everywhere you go, because the majority of costs are already covered. When you choose group rates to Cancun Hard Rock Hotel, you are able to design a vacation that suits your needs.