Group Rates for RIU Santa Fe All Inclusive Packages
---
Hotel RIU Santa Fe is located on the beach just outside of Cabo San Lucas and just a short water taxi ride to the marina. RIU Santa Fe Cabo all inclusive packages are a great way to celebrate many different occasions. Cabo group packages include food, drink, government taxes, tips and more. There is no need to bring your wallet once your group has paid for the Riu Santa Fe all inclusive packages. Furthermore, the Riu Santa Fe restaurants are well-known and serve various delicious cuisines. Located right next to Dreams Los Cabos, which is also one of the best Los Cabos all-inclusive resorts.
Is the Hotel RIU Santa Fe good for groups?
They offer free stays with a certain number of guests
90 minutes of free WiFi in the lobby
Nightly entertainment included after 9:30pm
Free resort nightclub
Next door to the RIU Palace Cabo
Free dinner for 10-40 guests
Airport transfers included in the rate
All Inclusive Los Cabos Resorts for Group Travel
RIU Palace Cabo
Dreams Los Cabos
Marina Fiesta Resort
Sandos Finisterra Los Cabos
Cabo Luxury Riu Hotel
The astonishing RIU Santa Fe is nestled on the beach outside of Cabo San Lucas; a short water taxi from the marina, a quick walk from the beach, and just minutes from dozens of other local entertainment and excitement. An area which boasts some of the most incredible views of Mexico's famous Arches, guests are able to enjoy the area in a mind-blowing fashion. The RIU Santa Fe All-inclusive Resort serves as the ideal location for families, couples, singles, and large groups. Hotel RIU Santa Fe offers 24-hour, all-inclusive services, provides first-class facilities, includes full access to specialty restaurants, offers handcrafted cocktails, a Kids' Club, and tons of other award winning hotel amenities. As long as you love the beach, sun-bathing in the natural Mexico sun, and being pampered like a part of the royal family, then we're positive you'll feel right at home at the RIU Santa Fe.
Cabo Packages for RIU Santa Fe
Cabo all-inclusive packages would not be complete without the proper hotel amenities and the RIU Santa Fe serves as one of the most luxurious resorts in all of Mexico. The RIU Santa Fe Cabo all-inclusive packages are some of the most affordable in the entire country, so you can feel at ease when you book with RIU. The Riu Resorts give you full access to all hotel amenities at the RIU resorts in you area, so it almost feels as if you're staying in four resorts. That's right, you can walk over to a nearby RIU (without having to leave the gated community) and order your cocktail of choice. They'll see your wristband, give you a nice warm Mexico smile, and dish out an ice cold drink for you to enjoy at no additional cost. Imagine having twice the space for the cost of only one vacation! Wow, doesn't that sound nice!
Group Trip to RIU Resorts
Located just outside downtown Cabo San Lucas, next to Dreams Los Cabos, and one of the best Los Cabos all-inclusive resorts in all of Mexico, the RIU Santa Fe easily welcomes the most tourists each holiday season. When you think of a classic Cabo all-inclusive mega resort, the RIU Santa Fe should be one of the first resorts that comes to your mind, because this place has been dishing out a proper serving of beach getaways for several years. Due to the excellent, five star service, guests tend to find themselves coming back to hotel RIU Santa Fe year after year. Because once you have an extraordinary experience with a certain resort chain, you tend to want to stick with them. That's the beauty of the RIU Resorts, they only hire the most qualified of staff members, ensuring you have the perfect vacation. The RIU Santa Fe is an enormous hotel with 902 rooms, all of which include huge bathrooms. As part of an all-inclusive resort program, drinks, meals, and entertainment are all just part of the vacation package. You won't have to worry about calculating a long check, or dividing it between a variety of different groups, because it's already take care of! Once you pay your all-inclusive package, the rest of your vacation will just be one smooth ride of cocktails and beach dwelling. Isn't it nice when you can leave your wallet at home and just live in your favorite Tommy Bahama Hawaiian shirt? We thought so.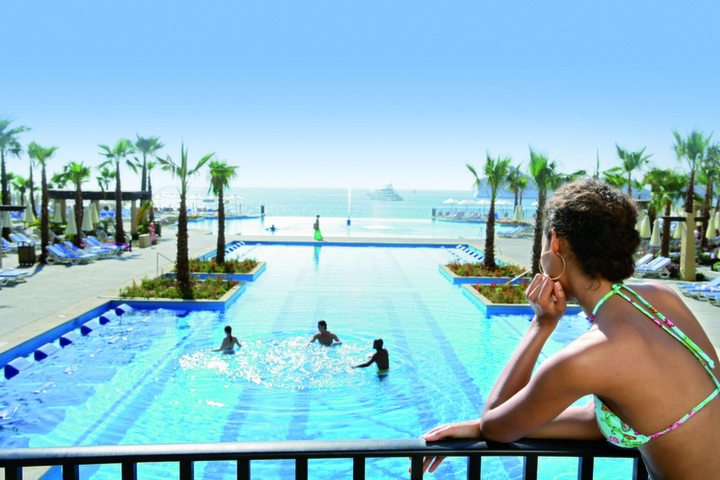 Large Groups, Low Rates for your Cabo Vacation
Let's get into a few of the details of what exactly the RIU Santa Fe has to offer you as a future guest. How does an enormous pool with attached jacuzzis, and separated Kid's pool sound? Amazing, right? But, how does three different pools sound? Even better? Well, when you choose RIU Santa Fe for your family's next vacation to Mexico, you get all of that plus way more! You get plenty of space to sunbathe, nightly entertainment, a fitness center, spa, plus lounge chairs, non-motorized water sports, in-room mini-bar, disco nightclubs, two tennis courts, swim up bars, and a variety of different culinary food options.
Ask about RIU Deals at RIU Santa Fe!
There are a total of 5 different restaurant options for guests to indulge in while they vacation at the RIU Santa Fe and the RIU Santa Fe restaurants are well known for their quality. Try a lunch or snack during the day at Torote (but by night is a specialty Grill Steakhouse), an authentic Asian cuisine at Zashila, an incredible Italian sit-down dinner at Carusso, an enormous muffet with show cooking and international specialties at La Baja California, or a Mexico palate pleaser at La Mision. You have an enormous selection of meal options when you choose Hotel RIU Santa Fe, so don't be afraid to dig in! Located only a short drive (about 40 minutes) from the Los Cabos International Airport, the RIU Santa Fe has a great location. You won't have to worry about renting a car, or sitting in a van shuttle for hours, because while you vacation at Hotel RIU Santa Fe, you won't need to rent an expensive rental car. Everything is at your fingertips when you vacation here, so what are you waiting for? Start searching for your ideal Cabo all-inclusive package and discover what an RIU Santa Fe all-inclusive vacation can offer you!