What do group rates for RIU Palace Riviera Maya include?
Get your family and friends together for some group travel to Riviera Maya. If you loved the RIU Palace Cabo San Lucas, then you'll love the RIU Palace in Riviera Maya. Located in Riviera Maya, Mexico on a beautiful sandy beach next to the RIU Palace Mexico. One of the best Riviera Maya all inclusive resorts you'd want to spend your next group vacation at. Featuring a stunning lobby, beautifully landscaped grounds, plenty of activities, golf, snorkeling and nightly shows, the RIU Palace Riviera Maya is one the best all inclusive resorts in the area. There are many dining options, casual and upscale, and a huge pool with a swim-up bar. RIU Palace Riviera Maya weddings are very popular because of how beautiful the resort is and how they accommodate group travel.
Best Riviera Maya Resorts for All Inclusive Vacations
What should the best Riviera Maya resorts include for group trips? Well for starters, the Hotel RIU Palace Riviera Maya includes the following…
Free resort stays are a must
Food, drinks, taxes and tips must always be included
Swim up bars are crucial for group trips
All day entertainment
Unlimited Wifi in the hotel
24/7 Sports Bar
Resort Nightclub with Unlimited Drinks and Free Entry
Similar Cabo San Lucas, Cancun & Riviera Maya Hotels
RIU Palace Mexico
RIU Palace Las Americas
RIU Palace Cabo San Lucas
RIU Caribe Cancun
Request Group Rates for RIU Palace Riviera Maya

Group Riviera Vacation
Similar to RIU Palace Cabo San Lucas, guests have access to amenities at all other RIU properties in the area. This allows you to have full access to four different resorts, without ever leaving home! The RIU Palace Riviera Maya is truly a spectacular resort accomplishment that should be enjoyed by any future Mexico vacationer. Everything is organized, clean, and always fun when you choose an RIU Resort. So start searching for your perfect all-inclusive vacation today!
RIU Resorts Group Pakcages
Located in Riviera Maya, Mexico, along the pristine beaches of Playacar, and only a short drive from downtown Playa Del Carmen, it comes at no surprise that tourists like to call this place home for their entire stay at the RIU Palace in Riviera Maya. One of the best features of the resort is the fact that it's part of a RIU complex of four different resorts. This allows guests to feel safe, comfortable, and ultimately creates a cozy vibe for visitors. These four RIU resorts are luxurious, massive, and cleaned daily, allowing guests to enjoy their vacation the way it was meant to be enjoyed. As part of a gated community, guests of the RIU Palace Riviera Maya are able to be ensured the utmost safety of themselves and their loved ones. This is especially convenient for families that are traveling with small children. The staff at the RIU excel at making sure that families are able to stick together in a safe and organized surrounding, which allows guests to be worry-free during the duration of their trip to Mexico. RIU Palace Riviera Maya provides the perfect vacation environment for any type of group! Whether you're travelling with a wedding, family reunion or girls weekend, this hotel can accommodate everyone!
Riviera Maya Riu Palace
With one of the most stunning lobby areas and most breathtaking landscape grounds of any Riviera Maya Resort, people are shocked when they finally enter the RIU Palace in Riviera Maya, Mexico. This 400-room, all-inclusive resort brings luxury and paradise to a whole different level. The vivid estate is surrounded by the finest of palm trees, groomed daily by expert groundskeepers. The property is rich with tropical and charming wildlife, and from an architectural standpoint, is an outstanding resort accomplishment. The lobby is decorated with enormous chandeliers, traditional Mexican decor, enchanting marble floors, and captivating glass-stained ceiling panes. Remodeled in 2012, the rooms at the RIU Palace Riviera Maya received a much needed tune up that really separates it as a optimal Mexico resort. Aside from the hotel's incredible lobby and landscape features, the RIU Palace also offers a variety of decadent culinary options for guests to enjoy. Take for example the Mexico El Porche (poolside bar), which dishes up snack-style foods while you lounge by the pool. Or guests can enjoy an authentic Brazilian, Japanese, American, or gourmet meal of their choice in any of the other resort restaurants.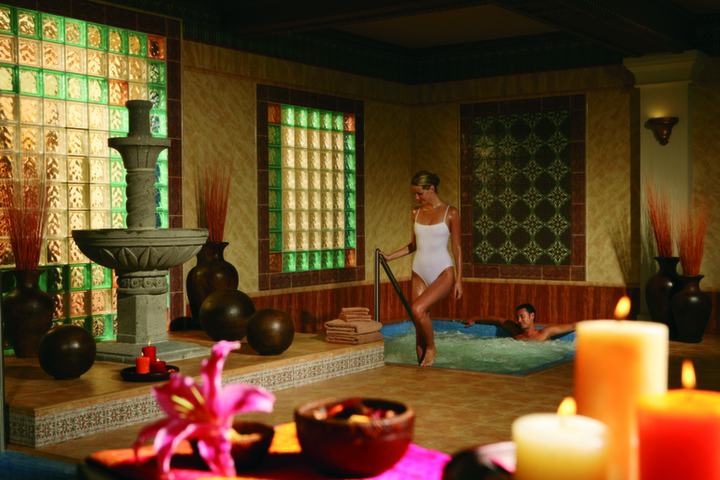 RIU Palace Hotel for Large Groups
Also, RIU Palace Riviera Maya weddings are very popular, so looking into spending your upcoming wedding at a resort as fancy as this one could truly be a once in a lifetime experience. Why not celebrate the unity of your marriage in a place as beautiful as this one? It's a no-brainer! But also, If you'd like to celebrate your honeymoon at the RIU Palace in the Riviera Maya, the resort welcomes your with open arms. With one simple call, the resort staff will ensure you have romantic dinners, private champagne evenings, and the peace and quiet you and your partner deserve!
Best Riviera Deals
If you're looking for a vacation with non-stop action during your next trip to Mexico, then a place like the RIU Palace in Riviera Maya, Mexico could be an incredible choice! This place has it all! Either spend a day to yourself (or with your partner) at the RIU spa, get fit at the modern fitness center, lounge by the pool, drink a hand-crafted cocktail at the bar, dance until the wee hours of the morning at the local discotheque, scuba in the pool, snorkel in the ocean, windsurf, or enjoy one of the nightly shows put on by the resort every single night! You see what we mean? The RIU Palace in Riviera Maya may be one of the best all-inclusive resorts on the map, so checking this place out is definitely worth your time! Another aspect to a perfect vacation is finding a place that allows you to plan a group travel to Riviera Maya. Lucky for you, the RIU Palace of the Riviera Maya has some of the best group rates of any resort in Mexico. You are able to plan massive trips for just about every size of group. Whether you want to plan an enormous vacation for your entire extended family, impress the in-laws, or if you just want to escape with your soul mate for a few days, the RIU Palace is 100% able to accommodate your getaway needs. Just imagine swimming up to the pool bar, ordering a Piña Colada, and just kicking it with some of your closest friends and family. And a vacation to Mexico just would not be complete without a little salsa dancing at the Disco club, something that can be enjoyed by just about everyone in your group travel to Riviera Maya!