Group Rates for RIU Palace Mexico All Inclusive Vacation Packages
---
Enjoy the beautiful, well-kept grounds of the RIU Palace in Mexico. Not only is it located in Playa Del Carmen, but it also offers plenty of on-site activities such as volleyball, kayaking and snorkeling, making it one of the most enjoyable hotels in the area. This hotel is very similar to the RIU Palace Pacifico and also offers live music, nightly shows and access to a local disco club for party-goers. If you're looking for great deals for Playa del Carmen group travel, the group rates for RIU Palace Mexico are fairly competitive. RIU Palace Mexico makes it easy for you to enjoy a great vacation with the ones you care about.
What do group rates for RIU Palace Mexico include?
Complimentary resort stays (ask agent)
Breakfast & Lunch at RIU Yucatan, RIU Playacar & RIU Tequila
5 Bars + Unlimited Drinks at 5 RIU Resorts
24/7 All Inclusive Resort
Included Live Shows at 9:30pm every day
All Inclusive Nightclub and Lounge
Semi private dinner for up to 40 guests
Cancun & Playa Del Carmen All Inclusive RIU Resorts
Hotel RIU Palace Las Americas
Hotel RIU Caribe Cancun
Hotel Hotel RIU Cancun
RIU Yucatan
Group Getaway Deals at Riu Resorts
In unison with all RIU resorts, the RIU Palace Mexico provides excellent service, comfortable accommodations, and an overall unforgettable experience. Located in Playa del Carmen on the white sand beach of Playacar, you'll soon realize why this resort has been the number one location for singles, couples, and groups to vacation. The RIU Palace Mexico successfully incorporates European ascents with a Mexo-Spanish style to create a resort that can be viewed upon as spectacular. The property is ornamented with lavish fountains, sculptures, heavenly gazebos, and majestic gardens, thus creating an atmosphere of absolute bliss. You can stroll through colorful gardens, soak in the invigorating swimming pool, or dance the night away at the lively disco nightclub. The RIU Palace Mexico offers tons of top shelf liquors, memorable cuisines, and an experience that you really can't find anywhere else.
RIU Resorts Palace Mexico Group Deals
What exactly is an "all-inclusive" vacation? Many people don't understand how amazing an all-inclusive vacation to Mexico can be. Guests are able to choose from an assortment of different vacation packages and then get to choose a specific package that suits their needs. We understand there are tons of different ages, group sizes, and interest to all customers, so we've compiled a list of the most luxurious, yet affordable vacation packages in the country. Very similar to the RIU Palace Pacifico, the RIU Palace Mexico offers the best all-inclusive services in the area. You receive endless food and cocktails, with special amenity services at nearby RIU resorts. That's right, endless food and cocktails. That means you won't have to bring that clunky wallet or have to calculate an exchange rate, because everything has already been pre-determined in you package cost. This makes it easy for you to kick back, relax, and enjoy a stress free vacation in Playa del Carmen, Mexico.
RIU All Inclusive Experience at RIU Palace
Sip your handcrafted cocktail, feel the sea breeze move in, and look out at the turquoise waters of the Caribbean Sea. With unforgettable views surrounding the entire resort, when you choose RIU Palace Mexico for your accommodation, you are invited to get lost in beauty during your next vacation. This resort offers two refreshing swimming pools, a lively nightclub, swim-up bars, and tons of different activities for guests to enjoy while they vacation in Playa del Carmen, Mexico. Also, the group rates for RIU Palace Mexico are easily the most affordable in the country, for you get much more bang for your buck when you choose RIU resorts. RIU Palace Mexico group rates are affordable, yet you don't need to worry about forfeiting price for quality. As a resort company that is recognized worldwide, RIU has excellent services.
RIU Group Rates
And after a decadent meal, a night of dancing, and drinking is the best way to cap off the night. There's a great nightclub on the resort property, so you don't even have to drive into town to be able to enjoy the night of your life! With DJs pumping up the dance floor with local beats and classic favorites, you'll definitely want to bring your dancing shoes. Vacations to Mexico are supposed to be all about creating lifelong memories and creating stories that will last a lifetime, so why not choose a place like RIU Palace in Mexico to start creating those experiences? The vacation of a lifetime is right around the corner. Start discovering what a trip to Playa del Carmen and a stay at RIU Palace Mexico can do for you!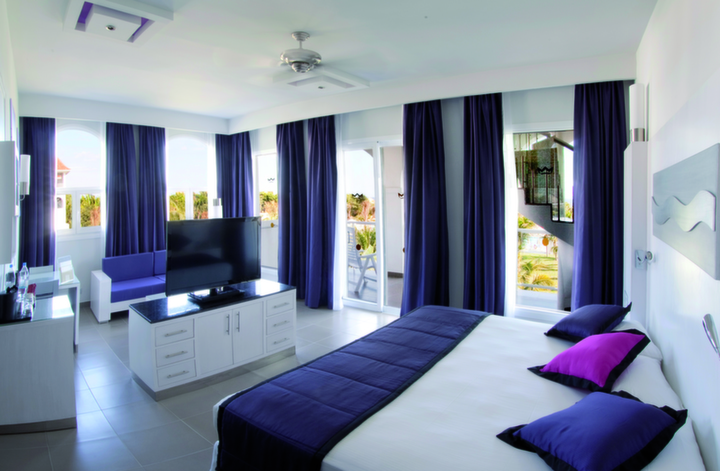 RIU Group Vacation Packages
Though the resort has tons of masterful architecture and interior design, the selections of culinary cuisines is extraordinary. As a guest of the RIU Palace in Mexico, you get full access to a ton of the country's best meals. Whether you enjoy traditional Mexican, intricate French cuisine, or an epic Italian meal, you'll find the choices at RIU Palace Mexico are perfect. La Bodega, Don Julian, El Patio, and La Traviata all offer a la carte style dishes and legendary buffet choices that can please even the pickiest of eaters. With a wide range of locally prepared ingredients, guests are provided with an adequate amount of choices. Menu selection is everything in terms of a stellar restaurant and the culinary masterminds at RIU Palace Mexico care about their menus. A few all-inclusive resorts forget how important meals are to guests, so the RIU has made sure that each and every guest receives several selections when it comes to cuisine choice.
RIU Palace Hotel Perks
Riu Palace in Mexico offers incredible and spacious rooms that will surely please everyone in your family, or party. You have the option of renting a deluxe and spacious suit, or a standard room. All rooms were renovated in 2012, so all furnishing and artwork is modern and always local. Rooms are decorated with rich, dark wood tones, with a granite, rose tile finish. Also, guests are able to help themselves to endless minibar, and unforgettable views of the Caribbean Sea.