Live Aqua Cancun All Inclusive
Live Aqua Cancun provides natural rejuvenation of the mind, body, and spirit through a lavish all inclusive resort experience that you will go home bragging about. Life can get stressful at time and at Live Aqua in Cancun, guests are welcome to kick back and relax during their all inclusive vacation. This stylish beach-front resort excels at mixing relaxation with comfort, thus allowing an atmosphere of carefree nature to exist within the resort. All inclusive trips to Cancun should be everything you want in a dream vacation and we've found some of the best all inclusive packages in the country, brought to you at competitive prices. Style and grace are two things which Live Aqua Cancun does well, enabling guests to balance their lives and center their aura.
Live Aqua Hotel Luxury Experience
Stop procrastinating the vacation of a lifetime! There are people awaiting your call at this very moment to supply you with the best all inclusive rate to Live Aqua so you can start detoxifying your stressful life while on your next vacation. So, choose the Live Aqua Cancun for your family's next vacation and see what it feels to find actual total relaxation! Here's what we can offer:
Stylish Rooms with surround sound and docking stations
Daily Aroma Therapy kit for soothing fragrance
Local catches featured for Restaurant Seafood
8 Amazing Pools
Transfers to and from the Aiport
Excellent Location
Luxury Trip to Remember!
Group Trip to Live Aqua Resort
The Live Aqua Cancun Mexico is an enchanting beach experience that engulfs its guests in a vibe which lets them unwind and truly enjoy the vacation they've always wanted. To say the Live Aqua in Cancun pampers its guests would be an understatement, because this Cancun resort does so much more than just bring luxury and comfort to guests. This modern beach resort strives to give guests something that they've never seen before: complete detoxification. Whether work has been stressing you out, your children are growing up too quickly, or if you're simply overdue for an all inclusive vacation, a stay at Cancun's Live Aqua can be a valuable experience for you and your family.
Live Luxury at Live Aqua!
Cancun all inclusive resorts were designed to bring a sense of bliss to travelers and vacationers, a feeling which can only be found in select parts of the world. In addition to adhering to singles and newlyweds, group travel to Cancun is one of the best ways to enjoy a vacation in the sun. With dozens of hotels catering to large groups, it's very easy to impress family and friends when you choose a hotel like Live Aqua Cancun Mexico! Live Aqua Cancun All Inclusive Resort is one of the all inclusive resorts Cancun, Mexico has to offer and has yet to disappoint any of its guests thus far. When you take a look at some of the incredible accommodation and amenities that are available for guests, it comes to little surprise that guests rarely leave feeling anything less that "spectacular".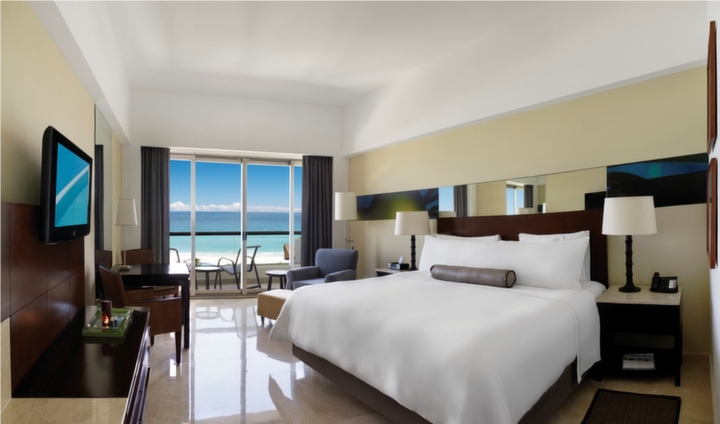 Packages for Large Groups at this Mexico Resort
Dining at the Live Aqua in Cancun, Mexico is an unforgettable experience that takes its visitors on a taste bud journey across the globe. The restaurants offer just about every single foreign cuisine, all of which always use the freshest of ingredients for guests to enjoy. Executive Chef Cesar Germain has meticulously designed his menus to accentuate the taste and flavor of the Caribbean, a decision that has brought in customers from around the world. The Live Aqua Cancun, Mexico includes seven different restaurants, from the fresh seafood of the Caribbean sea to the decadent desserts of France, you'll find nearly every type of palate pleaser at in this beach-front resort. Your standard Tuesday night dinner will turn from average to enchanting as Cesar and his crew take your taste buds on a trip around the world! Feel free to specify any food allergies or preferences, for this kitchen is able to please any customer.
All Inclusive Mexico Deals
The accommodation options at the Live Aqua in Cancun are very impressive, for guests can choose from a variety of different room options. Those guests traveling with children will find a family suite to be the best option as far as space and comfort, while older families are recommended to purchase dual rooms. Also, those looking to have a more VIP, presidential experience should try out one of the deluxe suites, which provide just about everything you'd imagine a ritzy resort room would offer. The rooms are always immaculately clean, adorned with luxuriously modern furniture, offer unforgettable views, and are all located in exceptional spots of the resort. Normal rooms include: aromatherapy kit, pillow menu, I-home (speakers), mini bar (restocked daily), air conditioning, plasma TV with satellite service, coffee maker, two phone lines with voicemail, unlimited high speed WiFi connection, clock-radio, DVD player, safe deposit box, iron and iron board, and beach bag with sandals. This is only the beginning of the list, so ask about other amenities that can be added to any room.
Live Aqua's Best Beach Vacation
Group travel to Cancun can be an extraordinary experience, one that will be remembered for years to come. When you choose a resort like Live Aqua of Cancun, Mexico, you are not just signing up for a standard beach getaway. This vacation is a memory that will last forever, not just in the photo and album books. You can soak in the infinity pool, overlooking the majestic blue waters of Cancun, Mexico, sip your handcrafted cocktail, and marvel at the beautiful existence of the world. Life is much too short to go through without living the dream, so we've found the best Cancun all inclusive resorts in the country, allowing you to find them without hours of research.