A Perfect Marina Fiesta Getaway
Positioned on the southern tip of Mexico's Baja Peninsula, lies Cabo San Lucas, an unforgettable beach vacation hotspot that has been home to some of the country's most elegant resorts for several decades. Known as the country's "must see" vacation party spot, Cabo San Lucas has been bringing the heat in more ways than one for the better part of a century. With its ice cold cocktails, vibrant dance clubs, and arguably the best beaches of the area, Cabo San Lucas, rarely has a dull moment.
Marina Fiesta Resort & Spa Perks
Whether it's the daytime beach club DJ, or the seemingly endless happy hour, the vibe in Cabo is definitely something everyone should experience at least once during their lifetime. Because trips to Cabo wouldn't be complete without a little late night, dance fever, party till the break of dawn, right? Here are some more amazing perks at Marina Fiesta Resort:
Amazing Main Pool with Swim up Bar
Luxury European Spa
Near Nightlife, Shopping and Dining
Water activities and Yacht Charters
Rooftop Terrace with Jacuzzis
Transfers to and from the Airport
A Getaway to Remember!
Marina Fiesta Cabo Deals
Lucky for vacationers and party goers alike, all inclusive Cabo vacations start here, at the Marina Fiesta Resort, which offers spectacular resort accommodations. The Marina Fiesta allows future vacationers to find safe and comfortable accommodations quickly and easily, because planning a vacation should be a stress free process. Located next to RIU Palace Cabo San Lucas, the Marina Fiesta Resort rests near downtown Cabo San Lucas and just a short walk from Medano Beach. Having a prime location while you party and vacation in Cabo is without a doubt one of the most important factors of your vacation. Because, the last thing you want is to be taking an expensive taxi from your hotel to the mainstream party scene every night, so staying at a resort like Marina Fiesta is a smart decision.
Marina Resort Group Rates
Cabo group packages are a great way to organize an unforgettable trip to Mexico's Cabo San Lucas. This is a great way for families, college students, fraternities, sororities, or any group of people that want to find the perfect Cabo all inclusive vacations. Finding the perfect resorts in Cabo has never been easier, for we've created a list of only the best Cabo all inclusive vacations in the country. A stay at the Marina Fiesta Resort will be one of the best decisions you've ever made. Remember, this is going to be an all inclusive resort, meaning, everything from your morning coffee to your double whiskey nightcap will be included in your vacation package price. This is great for people who don't want to be counting their pennies during their vacation getaway, for once you pay your package pre-determined price, you are set! All you need to do is kick back, relax, and enjoy your dream vacation.
All Inclusive for Largo Marina Fiesta Parties
This 155 suite hotel offers so much more to guests than just a beach getaway, but rather invites them to let loose and party until the sun comes up. The suites at the Marina Fiesta Resort are incredibly spacious, the furniture is soft and comforting, the showers are large, and bathrooms are cleaned daily. The sprawling main pool includes a swim up bar for easy access to your favorite cocktails, while the quiet pool area is perfect for couples that want to get away from the loud party animals. There's a rooftop terrace equipped with a jacuzzi, two fitness centers (one is open-air), a lovely European Spa, free high speed WiFi, suites include stocked kitchenettes, and private balconies with personal jacuzzis. The entire resort has adopted the party atmosphere of Cabo San Lucas, so you'll feel right at home while you stay at the Marina Fiesta Resort in Cabo San Lucas, Mexico. When you are looking for resorts in Cabo to stay at, there are a few things you must consider. Where is it located? How much does it cost? How's the quality of the hotel? And is it safe? All of these questions can easily be answered by browsing through the hotel's homepage, but we've developed in depth reviews of the hotels from our first hand experience.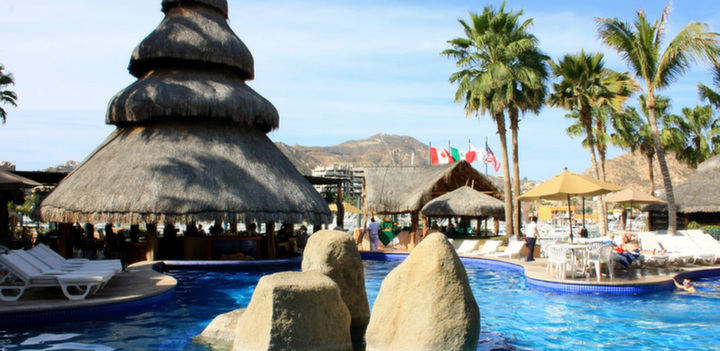 Luxury Group Offers at Marina Fiesta
Located just a short drive away from the airport, you'll be able to avoid a lengthy trust from the airport to your marvelous resort. The Marina Fiesta invites guests to embark on the vacation of a lifetime, full of non-stop relaxation and endless nights of partying until the sun goes down. If the beach, the nightlife, and the endless food and cocktails doesn't grab your attention, maybe the fact that the Marina Fiesta is located just a short walk from various attractions will impress you. When you look for resorts in Cabo, include this impressive resort as one of your choices, for life at the Marina Fiesta is much more than just a typical vacation. Start searching for your dream vacation today and start living the dream!